Press Releases
Town of Byhalia joins MS Main Street Network
On Thursday, April 20, the Mississippi Main Street Association (MMSA) recognized the town of Byhalia, Miss., as a Downtown Network Member of the statewide association.


The Town of Byhalia and the Byhalia Area Chamber of Commerce (BACC) had the opportunity to apply for the Mississippi Downtown Network Membership, and the MMSA Board of Directors unanimously approved the application.


"The Town of Byhalia Aldermen joined me by approving to submit an application for the Downtown Network Membership with the Mississippi Main Street Association," said Mayor Phil Malone, Mayor of Byhalia. "We are motivated after being aware of the benefits of the Main Street program through the Mississippi Municipal League, Mississippi Development Authority, and the Byhalia Area Chamber of Commerce as well as from the Mississippi towns and cities participating in the program."


"We appointed a Byhalia Advisory Council in 2015 to address many of the issues and resources needed to improve the downtown area and the scope of development for the town. After struggling with the approach and the communication of the need to our community, I suggested we look to Mississippi Main Street," Malone said. "My long term goals are to expand to become a Certified Main Street Community and expand the efforts, growth and development to the major interchanges of Highway I-69 at Highway 309 and to Highway I-22 at Highway 309."


Byhalia has been an Associate Member of MMSA since 1998. In 2011, Byhalia received a Vision Plan Charrette from MMSA with grant funding provided by the Appalachian Regional Commission. The Downtown Network membership affords the town more services from MMSA with the opportunity to progress to the Certified Main Street Membership within three years.


"After we revisit the Vision Plan from the charrette in 2011, I see Byhalia being a destination for the region with the development of the Old School Commons, the parks, and the downtown area," Malone added.


Jeannie Waller Zieren, MMSA Director of Training and Information Services, presented the town with a certificate at the BACC Membership Luncheon held at The Flame/Byhalia United Methodist Church on April 20 and welcomed the community into the Mississippi Main Street network.


"As a Downtown Network Member of MMSA, Byhalia is also joining Main Street America as an Affiliate Member. Our greatest strength is the network we provide with other local, state and national programs. We are impressed with the momentum in Byhalia and believe their membership in the state and national Main Street programs will only serve to further their momentum and success," Zieren said.


"I applaud Mayor Malone and the Aldermen for having the vision to move forward with the Four Point Approach of Main Street," said Sarah Sawyer, Executive Director of the Byhalia Area Chamber of Commerce. "Byhalia and the Marshall County Area has the greatest potential to be one of the best in the region. We plan to focus on the strengths and work on the weaknesses."

"With the BACC, the goals and objectives are in place to take Main Street and merge it with these efforts and plans. I appreciate the Chamber Board of Directors and the Byhalia Advisory Council for staying the course and having the dedication to work for a better place," Sawyer said.

"The people are the biggest asset. With a Vision Plan to identify issues, direction and resources, the people will come together. Communication is key to any new program, idea or plan but mainly, pride in what we have to share with others."


Awards Presented at Ocean Springs' Annual Meeting
Awards Presented at Ocean Springs' Annual Meeting
(Ocean Springs, MS) - Each year Ocean Springs recognizing businesses and individuals who have made
an impact within the community. This year's awards were presented during the Ocean Springs
Chamber's Annual Meeting held on Thursday, March 2 at Gulf Hills Hotel & Conference Center.

Awards were given in the following categories: Volunteer of the Year, The Joseph F. Tinney Award "The
Worker", Community Leader Award, First Responder of the Year, Restaurant of the Year, Retailer of the
Year, Main Street Award, and 2016 President Appreciation Award. Awards recognize achievements for
the 2016 calendar year.

Volunteer of the Year went to Moon Sinnokrot. The Joseph F. Tinney Award "The Worker" was
presented to Naval Mobile Construction Battalion 27 U.S. Navy. Community Leader of the Year went to
Chic Cody. First Responder of the Year was presented to Officer Adam Carter with the Ocean Springs
Police Department. Restaurant of the Year went to The Froghead Grill. Retailer of the Year was
presented to owner Traci James with It's All Arranged Consignment Boutique. Main Street Award went
to owner Jennifer Gladden of Lola Fleur Catering & Market. The 2016 President Appreciation Award
went to Brad Cates with Mississippi Power.

"These awards are a small token of our appreciation and recognition for what all our volunteers,
businesses and community leaders do for the community of Ocean Springs," said Cynthia Sutton,
executive director of the Ocean Springs Chamber of Commerce-Main Street-Tourism Bureau.

The banquet was hosted by the Ocean Springs Chamber of Commerce-Main Street-Tourism Bureau and
sponsored by Bacot McCarty, Blossman Gas, Charter Bank, Chevron Pascagoula Refinery, Coldwell
Banker Alfonso, F.E.B. Distributing Company, Fort Bayou Wine & Spirits, Gulf Hills Hotel &
Conference Center, Hancock Bank, Keesler Federal Credit Union, M&M Bank, Mississippi Power, The
Peoples Bank and USM—Gulf Coast Research Laboratory.

Ocean Springs Chamber of Commerce-Main Street-Tourism Bureau is a non-profit organization
representing nearly 500 business members with a mission to promote tourism, provide progressive
leadership for economic and community vitality for the greater Ocean Springs, Jackson County area and
gulf coast and to enhance local culture and preserve quality of life through planned growth,
diversification and beautification.

For more information on the awards or the event, please contact the Ocean Springs Chamber of
Commerce – Main Street – Tourism Bureau at 228-875-4424.
Back Stage Pass Grand Prize Winners Chosen at Annual Conference; Two Winners Chosen in a Drawing

Back Stage Pass Grand Prize Winners Chosen at Annual Conference; Two Winners Chosen in a Drawing


JACKSON, Miss. — Wayne Andrews of the Yoknapatawpha Arts Council (YAC) in Oxford and Dora Glover of the Action Communication and Education Reform, Inc. (ACER) in Duck Hill have been announced as this year's Back Stage Pass conference $1,500 grand prize winners.

The conference and grand prize drawings were sponsored by the Mississippi Main Street Association (MMSA), Mississippi Arts Commission and Visit Mississippi. 


Back Stage Pass was held in Vicksburg, Miss. on Jan. 26 and 27 where the winners were chosen during the closing session from attendees at the conference. 



"The bottom line goal is educating attendees on how to produce meaningful, authentic events that boost the local economy, attract visitors and provide community residents with quality of life programs," says Jeannie W. Zieren, director of training and information services at Mississippi Main Street Association.



Throughout the conference, to be eligible for the grand prize drawings, attendees attended the Mississippi Artist Showcase, where six Mississippi Roster Artists performed, and had every exhibitor at Back Stage Pass sign their program. Once completed, the signed programs were divided into two stacks and a winner was randomly chosen from the "small town" stack as well as the "large town" stack.

"We are excited as it will support a new project we are doing to promote partnerships between arts and cultural groups across the state," Wayne Andrews, Yoknapatawpha Arts Council Director said. "Back Stage Pass is a great chance for organizations like YAC to step outside our community, learn from others, and explore the depth of talent in our state."

-END-

Mississippi Main Street Association is a Main Street America™ Coordinating Program and our mission is to provide education and technical assistance to member towns, which focuses on issues embraced by the Four Point Approach of Main Street - Organization, Promotion, Design and Economic Vitality – that are designed to match resources available in their communities. Currently, MMSA has 50 Main Street Member Communities, five Downtown Network Communities as well as numerous Association Members, Allied Members, and Friends of Main Street. By utilizing MMSA's expertise, resources and technical assistance, once badly deteriorating downtowns are becoming vibrant and viable, and are taking their rightful place as the heart, center and core of their communities. For more opportunities and information on events like Back Stage Pass, visit msmainstreet.com.
By: Lindsey Edwards
How a Rural Mississippi Town created a new Local Economy to Rebuild its Main Street
How a Rural Mississippi Town created a new Local Economy to Rebuild its Main Street
Ten years ago, Water Valley, Mississippi had fallen on hard times. Today, there's a brewery, a restaurant—even a coding school.
By Adele Peters
Fast Company
When Kagan Coughlin and Alexe van Beuren first visited Water Valley, Mississippi a decade ago, the majority of the storefronts on the small town's Main Street were empty. But the couple was charmed by the people they met; inside an old soda fountain, a fourth-generation business owner made them a milkshake, chatted for half an hour, and hugged them when they left. They decided to move to town.
They became part of a small group of people who have helped rebuild Main Street. A former machine shop is now a brewery. A drugstore is an art gallery. A service station became a restaurant.
Coughlin and van Beuren bought an old department store and turned it into a grocery store, cafe, and apartments. They later bought five more vacant buildings, fully remodeled them, and leased them out to new local businesses. In 2016, they added a free coding school for local students to the former department store.
All of this is possible partly because real estate there is very affordable; old commercial or industrial buildings in need of a lot of work can go for as little as $10-$12 a square foot.
"The entry level price is pretty cheap," says Mickey Howley, who bought an empty storefront with his wife in 2002, and turned it into an art gallery. "Here, if you want to do something creative, you can really get in on the ground floor and own a building . . . if you have a place where you can pay for it even if it's not doing that great, you can push that creative direction a little bit more. It's kind of economic freedom that these small towns still have."
With enough people doing the same thing—a group of around 20, in a town of 3,350—the small downtown revitalized. About 30 historic commercial buildings, out of around 100, have been renovated.
"I think the biggest thing that has changed here is the attitude about what's possible," says Howley. "I think there's really a can-do spirit and we're going to do it ourselves. If you wait for someone to help you, it will never happen."
While the businesses aren't wildly profitable, the town sustains them. Coughlin says it's a different sense of what "success" means than in most of the country.
"I grew up in New England, and I spent a fair amount of time on picket lines with my father outside the machine tool shops that he worked in," says Coughlin. "I remember the first time he explained to me that a company could be functioning and could employ, full-time, 100 people who were supporting 100 families, who were consuming and paying taxes and supporting a town, but by the metric of the investors, if they didn't make more than that, they were a failure. I think if you had anybody who was trying to take money out of this town, there is no money really to go anywhere. But if you have someone who's living here, and we are, all of our endeavors, they support our life."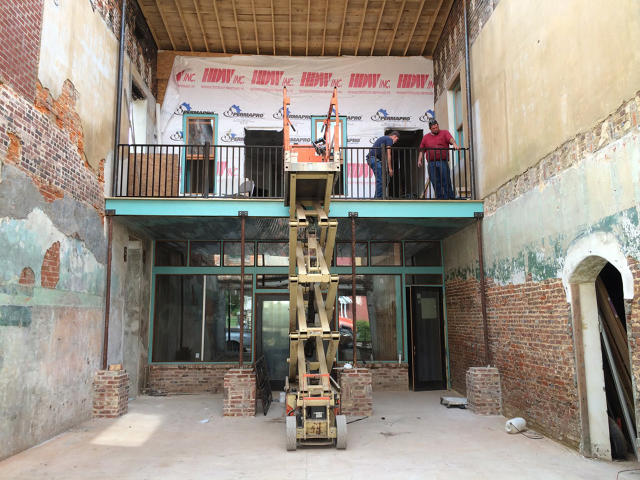 You won't see a Main Street business owner with the latest iPhone, or a fancy car, and they don't go on expensive vacations. "But they're buying their kids clothes for school," says Coughlin. "If a band comes through town, they have their $10 to get in. It's just different priorities. If you backed up 50 or 80 years, then this is a fully functioning economy."
Now, some of the renovators are beginning to focus on education. "We're kind of running out of stuff to fix up now," says Howley. Coughlin, who quit a tech job in nearby Oxford, Mississippi, to work on Main Street, helped start the new coding school, Base Camp Coding Academy.
"There's a lot of bright, really good-hearted kids in Mississippi that have nothing around them like they would if they were on one of the coasts," he says. "The opportunities just very rarely trickle this far into the mainland."
Another project is turning an empty building into an art school and studio space. "We want to take the kids here and give them the intellectual or creative opportunities that they have not had—they had to go elsewhere to get if they wanted that," says Howley. "We've already done the economic fix stuff, that's on a roll, and the old houses, and now it's like, okay, what do we do for kids and keep it going?"
Slideshow Credits: 01 / Photo: via Mickey Howley; 02 / Photo: via Mickey Howley; 03 / Photo: via Mickey Howley;